The way that computer science education is promoted to primary school-aged children can make all the difference. NewTechKids learned this lesson during our latest round of after-school computer science bootcamps which ran from January – March 2017.
Previously, we had marketed our bootcamps as 'Discover Computer Science' or 'Explore Computer Science' and listed all of the wonderful computer science concepts that children would learn about: loops, algorithms, if-else statements, sequences, Boolean data, etc. This may have been great marketing to reassure parents (and perhaps give them more bragging rights) but this approach did little to make most children excited or engaged. In fact, we concluded that this approach was too 'nerdy' and appealed more to boys than girls. (Our programs typically attract 70-75% boys.)
We wanted to break out of this mould so we decided take a different approach, based on framing and storytelling, when planning the themes and lesson plans of our bootcamps. So we choose a broad topic which resonates with children and provides opportunities to discuss technology and its implications. Here's how we framed one of our bootcamps for children ages 8 – 11.
Time Travel Adventure
During this bootcamp of ten (10) weekly workshops, kids ages 8-11 will learn about computer science and how to use the thinking and problem-solving models behind it.
How? By becoming time travellers who use computer science and robotics to solve technology challenges from the past, present and future, ranging from medieval catapults and and horse-driven carts to self-driving cars and football robots.
We're happy to report that this bootcamp was one of the most fun and imaginative bootcamps that we've ever organised. Working in teams, kids re-imagined robotic wheels and came up with sensor-driven compasses while discussing the history of these technologies and how the original inventions revolutionized human life.
They re-designed assembly lines using colour sensors and tried their hands at artificial intelligence by designing and programming football robots to play for them. These class challenges also encouraged them to think about the implications of technology, especially when it replaces humans.
Going forward, NewTechKids plans to continue using broad themes and technological literacy to engage our students.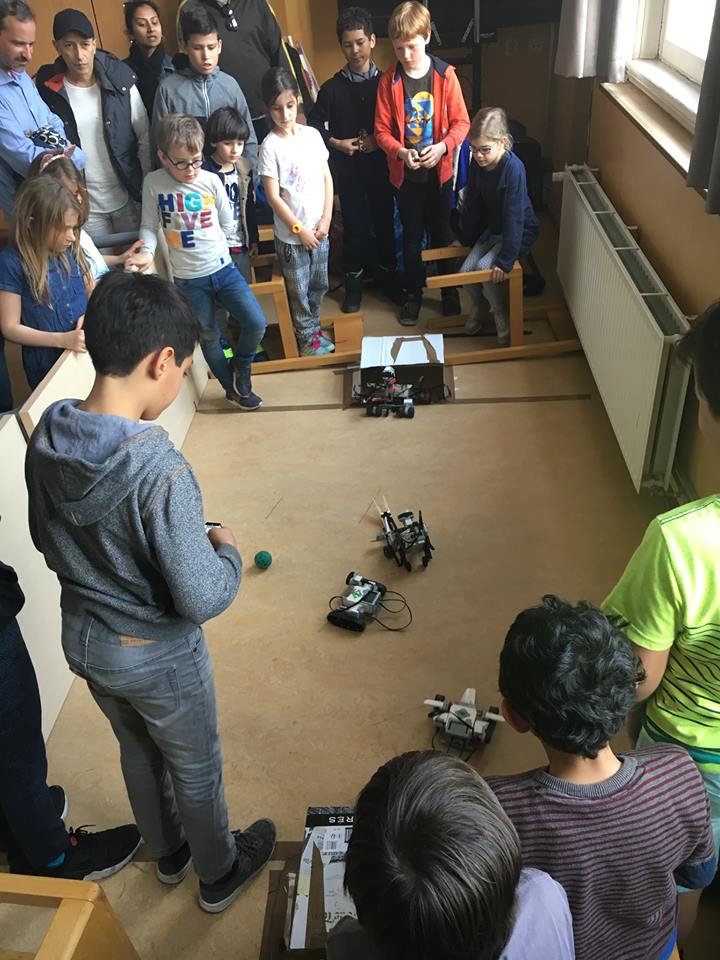 (Final class of NewTechKids' 'Time Traveller' bootcamp: ultimate football robot match.)