Where kids learn to shape their future, their way
NewTechKids is a technology education academy in Amsterdam dedicated to igniting the problem-solving capabilities and innovative spirit of children. Our programs, taught in Dutch and English, teach primary school children the fundamental concepts which power technology, programming and information in the digital age. Gadgets, applications, software and hardware change continuously, the core concepts don't. Our staff of technology teachers and innovation specialists guide kids in acquiring knowledge and skills related to designing, programming, testing and creating stuff that matters to them. The future belongs to NewTechKids. Watch out, Silicon Valley. We're coming for you!
About Us
We care so much about 21st century education and skills that we are playing an active role in shaping them.
NewTechKids, an Amsterdam-based organization, teaches computer science programs and bootcamps for primary school-aged students during school classes and as after-school activities.
We also organize teacher training programs because teachers and schools play an integral role in ensuring that all students have a solid foundation to understand technology and the thinking and problem-solving behind it.
Whether it's our own programs for kids or our teacher training programs, our main goal is to help transform children from passive technology users into passionate inventors and prepare them to become future innovators and entrepreneurs.
NewTechKids programs won't turn children into master coders or give them specific technical skills. Our pedagogy, curriculum and lesson plans provide kids with a strong foundation to understand technology: how it works, why it works and how to think in order to invent new solutions. Computer science education is an excellent way to help kids acquire 21st century skills: critical thinking, problem-solving, collaboration, communication and creativity.
Most of our classes are taught in a combination of English and Dutch. Technology and computer science vocabulary is primarily in English and our programs help children learn English if it is not their native language.
Approach
We combine three magical ingredients in our programs. Technology and computer science education helps children understand the core concepts which apply to all forms of technology. Our curriculum covers computational thinking, algorithmic thinking, systems thinking and the fundamental concepts behind coding and programming. Technological literacy helps children understand important theories, discover facts and develop new ideas by connecting and evaluating different information. Innovation processes help children transform what they learn into their own inventions. During our programs, kids become comfortable with prototyping, designing, testing and programming, all important aspects of the innovation process.
As a company founded by two women, NewTechKids is dedicated to increasing the participation of girls and women in technology and computer science education. We're developing strategies which help girls learn and excel in mixed-gender classrooms which are the norm in primary and high school. Both genders benefit from working and learning together.
CORE CONCEPTS
We teach children to understand concepts such as systems thinking, resources, requirements, programming, automation and design. During our programs, children learn core concepts individually and in connection with each other.

TEAMWORK
We design our classes so that children collaborate. In teams, children learn to explain their thinking, engage in problem-solving, develop interpersonal skills and practice giving and receiving constructive feedback.

DESIGN PROCESSES
We help children design, test and improve their inventions with feedback from peers and teachers. Our teaching tools range from no tech (pen and paper) to high tech (programmable robot kits).

CHALLENGES
All of our classes involve challenges which encourage children to turn abstract concepts into tangible solutions. Failure is celebrated (and even deliberately included) to help children learn the importance of grit, perseverance and problem-solving.

Team
CO-FOUNDER & BUSINESS DIRECTOR
Entrepreneur, tech ed advocate and proactive parent. That's me.
Read More
CO-FOUNDER & HEAD OF CURRICULUM
Technology teacher, curriculum developer and researcher. That's me.
Read More
ADVISOR
Tech education professor passionate about teacher training. That's me.
Read More
ADVISOR
Computer science professor passionate about adaptive education. That's me.
Read More
ADVISOR
Branding/communications expert and initiator of The Better Awards. That's me.
Read More
ADVISOR
Dutch and international event programmer and curator. That's me.
Read More
ADVISOR
A curriculum manager who is passionate about technology in education. That's me.
Read More
ADVISOR
An illustrator and writer of children's programming books. That's me.
Read More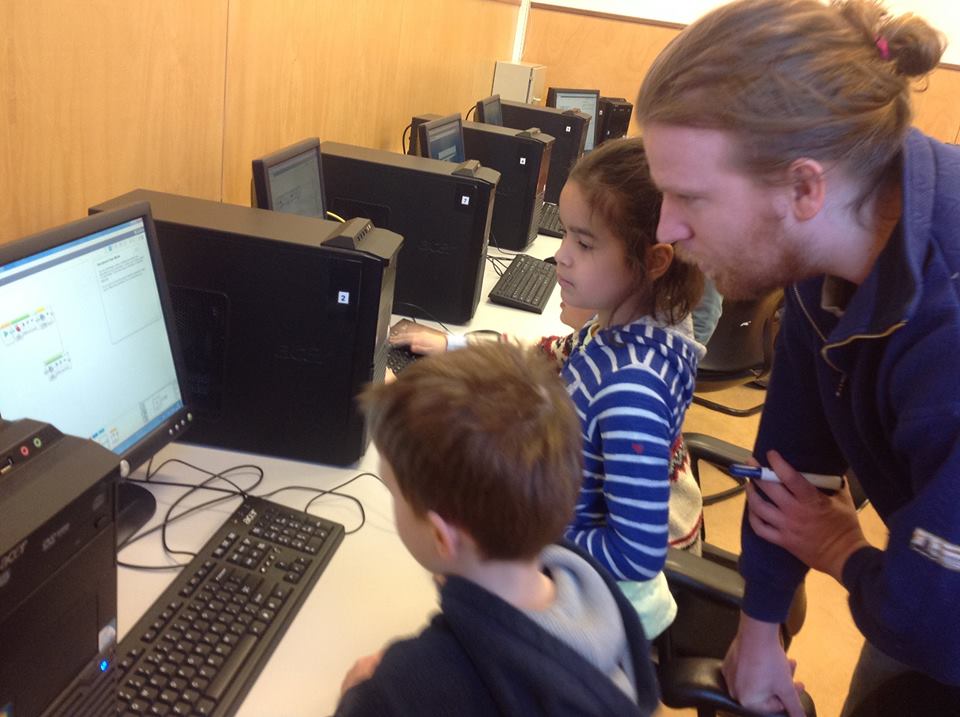 In December 2016, the European Union published the report "Developing Computational Thinking in Compulsory Education: Implications for policy and practice".
Read more
1
We hear a lot of reasons why parents register their children for our computer science bootcamps. These range from: - my
Read more
2
Connect
Subscribe to our Newsletter
Thanks for your interest in NewTechKids. Sign up to receive our email newsletter and stay updated on our programs and developments in technology and programming education for primary school children. To receive email alerts about upcoming programs related to specific age ranges, please choose one or more of the options below.
Contact Us
We'd be happy to discuss our academy and programs with you in more detail, whether you're a prospective student, parent, teacher, school director or after-school program facilitator.
email us: info(at)newtechkids.com
write us: Prinsengracht 462G, 1017 KG Amsterdam, The Netherlands
call us: Deborah Carter, Co-founder and Business Director,  +31 657 999 346